Have you heard the song by Carrie Underwood "Jesus Take the Wheel"? The woman was driving on an icy road, low on gas, scared, overwhelmed in life. Then she threw up her hands and prayed, "Jesus, take the wheel...." to take my life and lead it for me.
Have you ever done that? Have you ever been so overwhelmed in life, it seems you can't take one more thing to go wrong before you crack, to lift up your hands in surrender and say, "God, I surrender. Lead my life cuz I can't do it on my own!"?
Have you ever wondered why it's hard to scratch your own back? To clip a bracelet with one hand? Have a baby? Hang a gutter by yourself? Because we were made to not be alone. Those are things we do as humans that are hard to do by ourselves, (but can be done if you get creative) but God didn't intend for us to be alone on this earth. God wants us to depend on Him and ask for help when we need it.
I remember when my stepson was younger, he was playing a military game on the Playstation where he had to talk to his soldiers and tell them what to do so they could win the battle. He would send the soldiers ahead of him to check things out before he advanced, but he wouldn't wait long enough for the soldiers to get there and proceeded to move on and do it himself (then he would die every time). My husband stopped what he was doing to watch him and said to him. "Son, if you send your soldiers ahead of you, you need to be patient and let them do the job you've given them to do."
When we are overwhelmed in life, taken on too much to do and about ready to crack, ask God to take your wheel and lead you in the path He wants you to go. Throw your hands up in the air and say, "God, I just need a little help!" Then sit back, take a breath and patiently wait for Him to lead you. I'm not saying that something will miraculously appear and take away all your stress and craziness right then and there. What we need to pray for is a clear mind and a little peace to help us see more clear, because when we can see and think more clearly, we are able to hear (or "see") the direction God wants us to go.... and it will always be the path that will lead us to peace.
"So do not fear, for I am with you; do not be dismayed, for I am your God. I will strengthen you and help you I will uphold you with my right hand." ~ Isaiah 41: 10
Link up with me and join The Prayer Station! What are you praying about?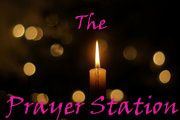 For my family