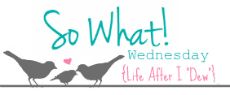 I'm linking up with Shannon at
Life After I Dew
for another week of So what! Wednesday.
This is what I'm saying
"So what!"
to:
If my husband ever read my blog and my "So What! Wednesday" posts, I'm screwed. Really, I'm confessing things that would cause me to have to rub his neck (and probably his feet) for a week if he found out.
So what!
I'm doing it anyway cuz it's just so much fun!
Last week I wasted about 10 hours in the same day messing around with a new blogger template.
So what
if it didn't even work? I changed my template about 4 times that day and I finally landed on one I really like.
That same day, my kids ate dinner at 7:40pm. At 8pm, I was mopping the kitchen floor while my kids took a bath alone.
So what!
if they didn't wash their hair well enough. At least they sat in water, right? Oh yeah, and there was water everywhere!
So what!
we spent a car payment on flowers, topsoil and mulch for our backyard. Our gardens are beautiful and I'm looking forward to enjoying them all summer.
Yesterday I made a very healthy smoothie (so very excited to drink it!). Since my blender sucks, I was using a plastic spatula to push the food down and make it mix. The blades at the bottom chipped off the tip of the handle and I didn't know until it was too late. I looked for a chunk of plastic and couldn't find any.
So what
I drank it anyway. I was not going to waste expensive produce! I'm hoping the teeny tiny bits of plastic I must have consume will not kill me.
What are you saying "So what!" to?