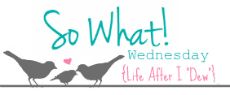 Thanks Shannon at
Life After I Dew
for letting me link up with you for another week of So What! Wednesday!
This is what I'm saying So what! to:
if there's a pile of spider clumps in the corner of my kitchen. So far my husband hasn't seen it and it's not not even motivating me to clean the kitchen.
I let my 4-year-old and her best friend play outside all day. They get into the mulch and pick leaves out of the garden. As long as they're playing nice together....
I've slacked big time on the kids' chores and homework for months.
I decided to (temporarily) quit writing for Yahoo! when we just added two new bills to our budget
I haven't scheduled eye appointments for my family yet. They were due months ago.
my closets are busting at the seams. The frustration goes away as soon as I shove the door shut and move on to the next room.
Have a sunshiney Wednesday!