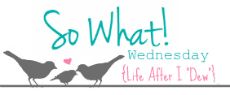 So it's another week of So What! Wednesday and I'm linking up with Shannon over at Life After I Dew.
Here's what I'm saying So What! to:
I spent another whole day goofing around with my blog layout. Nothing else gets done when I choose to blog. I can never seem to settle on a layout and stick with it. Too many choices, I guess.
My kids ate ice cream at 8:30 last night (on a school night) and they didn't get a bath either.
I decided I was going to take a break from writing for Yahoo! and today I found myself researching a topic to write about. I guess if I have a great topic idea, I might as well run with it and get paid, too.
It's so nice outside and my neighbor is playing with my daughter outside and I'm inside playing on the computer. There's something so wrong with that!
So what! I'm going to screw the "hurry-and-get-something-done-before-the-kids-get-home-from-school" bit and I'm going outside to play. I don't care if anything gets done today... including the laundry!
I'm still in my pajamas and it's 4:00
What are you saying "So what!" to?