I'm swapping buttons with my new-found friend, Digger at
Digging Deeper
. She's very multi-talented with blog designs, photography, cards and invitations, and even jewelry. Check out her blog and see what she's got. She even offers a discount on her jewelry through her blog. Her photography is amazing and if you're looking for a new blog do-over, she's your gal! I'm looking forward to getting to know Digger, you should too!
So, I promised myself I was going to bed early tonight. It is now 11:30pm. I'm so tired my eyes hurt. This week has been so busy with Vacation Bible School, I can barely keep up. Everyone I ever talk to who goes to VBS say it's the craziest week of their summer but oh, so worth it! My girls told me tonight, with emerging tears, that they don't want VBS to end, ever. They're having so much fun, it puts a little tickle in my heart.
Have a super weekend, everyone!
Don't forget to join The Prayer Station! Blog about your answered prayers, little miracles or something you need a prayer for, grab the button and celebrate God's love and forgiveness!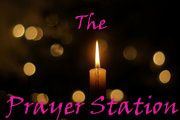 *** Erica found that her tumor has shrunk but will be continuing chemo for the next 6 months.
*** Justin was in a really bad car accident yesterday and needs prayers for a speedy recovery.
*** Tina's nephew just passed away. May God take his hand and lead him into Heaven.
*** For Sarah to have a healthy baby boy in August!
*** For Vicky's baby twins. One has a thyroid issue.
Your turn!