I might possibly go MIA this week due to Vacation Bible School and all the other craziness my week hit me with. But I'm so super excited that I got to talk to Don Most, who was Ralph on Happy Days and do a phone interview with him. He is so super nice and easy to talk to. He's produced a couple of movies that won awards and he's got some pretty neat projects coming up, too. You can read about his interview here:
I also got to talk to Victor Alfieri, who played a Lieutenant on Angles and Demons with Tom Hanks. He used to play in the Bold and the Beautiful but he's currently been very busy producing and writing movies. Victor is also a super nice guy and was fun to talk to. You can check out his interview here:
Please help me support these actors by reading their interviews, tweeting, facebook, forwarding, whatever you gotta do!
So that's it.... I think I hit the maximum amount of words I'm capable of saying in one day today. With a million phone calls, chasing kids, making appointments, dealing with issues and putting out fires.... I'm D.O.N.E! I think I'll turn on the TV and eat some ice cream... no wait, I have margaritas in the fridge. Yeah.... maybe both..... Have a great night!
Don't forget to join my Prayer Station. Link up with me and blog about a needed prayer or blessing you want to celebrate. Leave comments too. Where would our world be without prayer?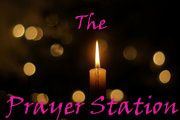 I want to pray for the lady in the car ahead of me in the car accident this past weekend, that she was not injured badly and will recover as soon as possible. Also a miracle that no one else was hurt!
I pray for the kids at VBS this week that their performance is successful and they are able to get their messages to the kids attending.
I pray that God will lead our marriages/relationships for a happy and healthy life together.
My granddaughter got her first tooth!
Thank you for hot summer weather!
Blessings to all our dads our there for Father's Day!
Ok, now I'm REALLY done talking! Your turn! God bless!