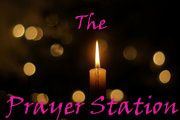 Welcome to my first post at the Prayer Station! This is completely new, first day, first post so bear with me if there are any kinks in my plan.
"Don't worry about anything, but pray about everything." Philippians 4:6
We all could use a prayer. I blogged about
The Prayer Jar
and talked about how easy it is to ask for things in prayer and forget to thank God for answering them. We forget to remember the good things when we dwell on all the bad stuff.
So here's your chance!
Link up with me any time you feel the need to request a prayer, thank God for answered prayers or tell the world about a miracle that happened in your life.
Grab my Prayer Station button.
Create a post on your own blog.
Hit any one of my posts and click on "Add your link" at the bottom and follow the instructions. Be sure to paste the actual post, not your general blog link.
Please visit other's blogs to keep the prayer chain going. If you don't have a blog, please leave a comment! I love hearing from my readers.
God bless you!
"Whatever you ask for in prayer, believe that you have received it, and it will be yours." Mark 11:24
So I'll go first...
My answered prayers:
I thank God for the opportunity to stay home and raise my family. I always knew I wanted to be a stay at home mom and now I am!
For my husband who works so hard so I can stay home and raise our family.
I finally figured out how to create a grab button and learned HTML codes. This one took a lot of prayers today!
For all my followers, subscribers and readers. You motivate me and make me happy!
My prayer requests:
For my friend Erica who is going through chemo to shrink a tumor.
A friend's friend who is going through visitation rights challenges for his daughter.
For a fireman brother to overcome his challenges over his amputated leg. That he finds strength to kick butt and get back on his feet and back to work.
A safe trip home for a dear friend.
For all my family and friends for good health, blessed marriages and happiness.
May a bird take comfort in creating a home in our little birdhouse.