"Forget the former things; do not dwell on the past. See, I am doing a new thing! Now it springs up; do you not perceive it?" ~ Isaiah 43:18-19
Have you had an attitude check lately? I did not too long ago. I remember being tired of being around myself. It was hard to get out of bed, I had no energy and I really started to plummet into not caring about things around me. Many nights, I couldn't care much whether or not I cooked dinner for my kids. Grilled cheese was the #1 item on the menu. But I remember waking up one day and was sick enough of myself that I decided to change my attitude. Instead of dragging myself out of bed, I popped up and got dressed. I made my bed immediately and started fiddling around the kitchen, making coffee and I think I even sorted through mail. That was enough to motivate me to keep going. I liked how I was feeling and was determined to keep the feeling going. This new attitude even reflected around me as I was out and about. Traffic didn't seem to bother me quite as much. Even waiting in line took a whole new outlook.
Have you ever asked for something in prayer and realized that you have yet to receive your blessing? Have you asked and asked and felt like God wasn't even listening? This reminds me of the story of Abraham and Sarah. They asked for a baby, then God spoke to Abraham and said, sure! I'll give you a baby.... but then 20 years passed by and still no baby. Sarah was in her 90's and Abraham was really old when they found out that Sarah was expecting. Sarah laughed and the Lord said, "Is anything too hard for the Lord?"
Genesis 18:14
Sometimes we think we know what we need and/or want, but God's will is many times completely different from our own. We have to trust that God's plan will far exceed our own and we have to have faith that we will have abundance of blessings if we just believe. Sarah laughed at her faith when God finally came through. He had His reasons, as you may recall was about the time Mary was with child as well.
We can laugh at our faith when our prayers aren't answered right away or in the manner in what we had hoped. Sometimes we need an attitude check regarding our faith. Are you asking for blessings and demanding results right away? Did you thank the Lord when He does come through? Always remember, God's plan will always be better than what we think we know is best for us. Don't let your past determine your future. God will answer your prayers all in good time. It's important to keep our attitude in check while we're waiting.
Join The Prayer Station!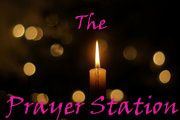 I just found out that the man we were saving plastic bottle caps for chemo treatment is now CANCER FREE! The family is so grateful for all the saved bottle caps (and there were a lot!) that they want to continue to keep saving the caps and give them to other families who need them. Thank you, Lord for You are good!!!